My Blog
Posts for: December, 2016
As is the case with most celebs today, Beyonce is no stranger to sharing on social media… but she really got our attention with a video she recently posted on instagram. The clip shows the superstar songstress — along with her adorable three-year old daughter Blue Ivy — flossing their teeth! In the background, a vocalist (sounding remarkably like her husband Jay-Z) repeats the phrase "flossin'…flossin'…" as mom and daughter appear to take care of their dental hygiene in time with the beat: https://instagram.com/p/073CF1vw07/?taken-by=beyonce
We're happy that this clip highlights the importance of helping kids get an early start on good oral hygiene. And, according to authorities like the American Dental Association and the American Academy of Pediatric Dentistry, age 3 is about the right time for kids to begin getting involved in the care of their own teeth.
Of course, parents should start paying attention to their kids' oral hygiene long before age three. In fact, as soon as baby's tiny teeth make their first appearance, the teeth and gums can be cleaned with a soft brush or cloth and a smear of fluoride toothpaste, about the size of a grain of rice. Around age 3, kids will develop the ability to spit out toothpaste. That's when you can increase the amount of toothpaste a little, and start explaining to them how you clean all around the teeth on the top and bottom of the mouth. Depending on your child's dexterity, age 3 might be a good time to let them have a try at brushing by themselves.
Ready to help your kids take the first steps to a lifetime of good dental checkups? Place a pea-sized dab of fluoride toothpaste on a soft-bristled brush, and gently guide them as they clean in front, in back, on all surfaces of each tooth. At first, it's a good idea to take turns brushing. That way, you can be sure they're learning the right techniques and keeping their teeth plaque-free, while making the experience challenging and fun.
Most kids will need parental supervision and help with brushing until around age 6. As they develop better hand-eye coordination and the ability to follow through with the cleaning regimen, they can be left on their own more. But even the best may need some "brushing up" on their tooth-cleaning techniques from time to time.
What about flossing? While it's an essential part of good oral hygiene, it does take a little more dexterity to do it properly. Flossing the gaps between teeth should be started when the teeth begin growing close to one another. Depending on how a child's teeth are spaced, perhaps only the back ones will need to be flossed at first. Even after they learn to brush, kids may still need help flossing — but a floss holder (like the one Beyonce is using in the clip) can make the job a lot easier.
If you would like more information about maintaining your children's oral hygiene, please contact us or schedule an appointment for a consultation. You can learn more by reading the Dear Doctor magazine articles "Top 10 Oral Health Tips For Children" and "How to Help Your Child Develop the Best Habits for Oral Health."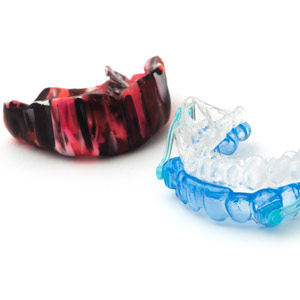 When he isn't among the ten players vying for position on the basketball court, Cole Aldrich of the New York Knicks sometimes lets his dangle behind one ear. Mason Plumlee, who plays for the Brooklyn Nets, slips his snugly inside one of his socks during off times. Other players can be seen at timeouts gnawing on them nervously, or tucking them into spandex waistbands. But when the whistle blows, they go into the mouth before the players get on the court.
We're talking about protective mouthguards, of course. According to a recent story in the New York Times, only a handful of basketball players wore them regularly a few years ago. Today, more and more are wearing them, both in practice and during games. What's the reason for the change?
Partly, it's the result of better design and improved construction; today's mouthguards are more comfortable and better-fitting than ever. Part of it comes from mounting evidence that they work: Research studies have consistently demonstrated the benefits of wearing a mouthguard — not only to protect the teeth, but also to reduce the risk of concussion. And partly, it stems from the growing acceptance that safety is an important aspect of all athletic activity.
If the pros are doing it — shouldn't you be too? While you may think that only contact sports (such as football) are risky, the fact is that "non-contact" sports like baseball and basketball account for the majority of dental injuries. In fact, the American Dental Association recommends you wear a mouthguard when you participate in activities like handball, soccer, surfing and weight lifting — as well as boxing, skydiving, martial arts and "extreme sports" — whatever that may mean to you.
What's the best kind of mouthguard? It's the one that you actually wear, of course! And the most comfortable and best-fitting mouthguard is the one that's custom-made for you by your dentist. Sure, you can pick up an off-the-shelf mouthguard at a big box store; but it can't offer you the same level of protection and comfort you'll get from a mouthguard that is made from a model of your own teeth. Custom-made mouthguards from your dentist are reasonably priced — and by preventing dental trauma, they can save an untold amount of hurt… both to your body and to your pocketbook.
So take a tip from the pros: Get a custom-made mouthguard, and wear it every time you play. But when you're done playing… how about putting it away in a case?
If you would like more information about custom-made athletic mouthguards, please contact us or schedule an appointment for a consultation. You can learn more by reading the Dear Doctor magazine articles "An Introduction to Sports Injuries & Dentistry" and "Athletic Mouthguards."