My Blog
Posts for tag: nutrition
Even after decades emphasizing oral hygiene and supplemental fluoride to fight dental disease, we're now seeing an increase in tooth decay, especially among children. What's causing this alarming trend?
Many in both the dental and medical professions link this and other health problems to a rise in the amount and consumption of sugar added to food products. A number of years ago our annual average consumption of added sugar was about 4 pounds per person; today, it's closer to 90 pounds.
The increase in sugar consumption can be traced to the 1970s when the food industry began adding more sugar to make processed foods stripped of oils and fats taste better. Today, 77% of the approximately 600,000 food items sold in the United States contain some form of sugar (under a variety of names).
This additional sugar, however, has produced an unintended consequence: sugar triggers the release of a brain chemical called dopamine that regulates our sense of reward when we engage in a desirable behavior. The excess dopamine creates a weak addiction to sugar, which then leads to overconsumption, contributing to our current obesity epidemic and the rise in health problems like heart disease or Type 2 diabetes. This is especially alarming among children: thirty years ago Type 2 diabetes was unheard of among children — today there are over 55,000 diagnosed pediatric cases.
For both you and your family's general and dental health, you should consider ways to reduce your sugar intake: purchase and eat most of your food from the "outer edges" of your supermarket — meats, dairy, and fresh vegetables and fruits (which do contain the sugar fructose, but are mostly fiber that slows the liver's processing of the sugar); limit processed foods with added sugar, and learn to recognize its inclusion in products by reading ingredients labels. You should also be wary of sweetened beverages such as sodas, sports drinks, teas or juices, and try to drink more water.
The recommended daily sugar consumption is less than six teaspoons a day (about two-thirds the amount in one can of soda). By restricting this consumption, you'll improve your general health and reduce your risk for dental disease.
If you would like more information on the general and dental health effects of sugar, please contact us or schedule an appointment for a consultation.
Good nutrition is essential for your child's developing teeth and gums as well as the rest of their body. You do what you can to provide them not just nutritious meals but also healthy snacks for other times of the day.
But once they begin school, you can't watch out for them all the time. They could be away several hours where they might be tempted to make unhealthy snack choices.
What can you do to lessen their chances of unhealthy snacking at school?
Engage with the school and their snack offerings. A set of U.S. Department of Agriculture regulatory guidelines called Smart Snacks in Schools sets minimum nutritional standards for snacks offered on school grounds. These guidelines promote whole grains, fruits, vegetables and low-fat dairy products and limit calories, fat, salt and, of particular importance to dental health, sugar. The guidelines, though, are only a minimum, so join with other parents to encourage your school to exceed those snack nutrition minimums whenever possible.
Educate your child about nutrition. Good nutrition starts at home: it's important not only to offer wholesome foods but to also teach your child why some foods are better for their body (and their teeth) than others. By encouraging a lifestyle of healthy eating both in practice and knowledge, you'll find it easier to set limits on their snack choices away from home.
Send snacks with them to school. If you're unsure your child will make the right choices, especially if they're young, than send snacks with them to school. Be sure, though, what you're sending is as appealing as the school choices. Try a little creativity: popcorn with a zing of cinnamon or cheese; decorative snacks; or easy to eat bite-sized fruit or vegetables. The more they like what you're sending, the less likely they'll choose something else.
In some ways snacking could be the Achilles' heel in providing your child the right foods for good dental health. By following the tips above, though, you can help raise the chances they'll eat the best snacks for strong teeth and gums.
If you would like more information on nutrition and dental health, please contact us or schedule an appointment for a consultation. You can also learn more about this topic by reading the Dear Doctor magazine article "Snacking at School."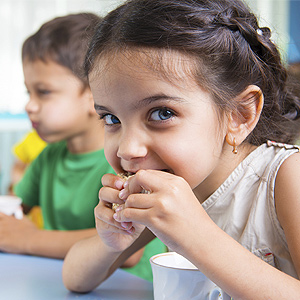 Eaten in a fast food restaurant lately? If so, maybe you've noticed some changes in the big, colorful signs behind the counters. Many have begun promoting a few "healthier" selections (like salads and grilled items) and giving a more extensive listing of nutritional information. But there's one thing you might not have noticed on those displays: a listing for soda among the beverage choices in the kiddie meal packages. That's because they are no longer there.
Recently, Burger King quietly removed sugary fountain drinks from the in-store and online menu boards that show what you get with kids' meals. They were following the lead of McDonalds and Wendy's, both of which made similar moves in prior months. You can still get a soda with your kiddie burger if you specifically ask for one, but we're hoping you won't; here's why.
For one thing, youth obesity has nearly tripled in the past three decades. As the U.S. Centers for Disease Control and Prevention (CDC) has noted, it's now an epidemic affecting more than one in six children and adolescents. Many of the extra calories kids get are blamed on sugary drinks: According to a study by the Harvard School of Public Health, children's daily calorie intake from these beverages rose by 60 percent in recent years. Obesity makes kids more likely to get many diseases, and can lead to problems in psychological and social adjustment.
But that's not all. As dentists, we're concerned about the potential for soda to cause tooth decay, which is still the number one chronic disease in children around the world. The association between sugary drinks and cavities is clear. So is the fact that tooth decay causes pain, countless hours of missed school and work, and expense that's largely unnecessary, because it's a disease that is almost 100 percent preventable.
While the new signage at fast food restaurants won't make soda disappear, it does tend to make it less of an automatic choice. Anything that discourages children from routinely consuming soda is bound to help — and let's point out that the same thing goes for other sweet and acidic beverages including so-called "sports" and "energy" drinks. It's best to try and eliminate these from your child's diet; but if you do allow them, at least limit them to mealtimes, and give your mouth a break from sweets between meals. That gives the saliva enough time to do its work as a natural buffer and acid-neutralizer.
What else can you do to help keep your child's oral hygiene in tip-top shape? Be sure they brush their teeth twice and floss once every day, and bring them in for regular checkups and cleanings. But if you do suspect tooth decay, don't delay treatment: Left alone, decay bacteria can infect the inner pulp of the tooth, resulting in severe pain, inflammation, and possibly the need for root canal treatment.
If you would like more information about children's oral health, please contact us or schedule an appointment. You can learn more by reading the Dear Doctor magazine articles "How to Help Your Child Develop the Best Habits for Oral Health" and "Top 10 Oral Health Tips For Children."